And with restrictions finally lifting, it's also a time for reflection on the past year, after the nationwide lockdowns that began in March 2020.
Since last spring, our almost-always-open doors were forced to temporarily close due to the coronavirus pandemic. In fact, everything we took for granted as part of an organisation that is usually open 364 days a year was turned on its head in 2020. While our stages and studios could not continue as normal, our team worked on projects to help bring our programmes to as many people as possible, despite the lockdown. 
In time, this also meant we brought the inside (and the experiences our building usually provides for physical audience members) outside – on to the street, and available for anyone. Two giant murals, both unique in their own creation and appearance, now cover our front and back walls, providing an opportunity for people walking past our building to find a moment of joy or reflection.
Recently, we sat down with our CEO, Judith Kilvington, to look back on the previous year, how these beautiful murals came into being, and what it has been like to push ahead with bringing creativity to east London, despite the circumstances. 
After such a difficult time for the arts, it's wonderful to have our building covered in two huge murals, effectively creating a socially distant art gallery on our outer walls. Why are these two projects (very different in many ways) so important to Rich Mix?
Judith: When I think back to January last year, we had an amazing Raised @ Rich Mix season, bringing together new partners and old, and celebrating what was so distinctively Rich Mix. Then on 24th March everything suddenly closed down and we were faced with that initial thought of "how are we going to create art again, how are we going to our building?". We asked ourselves, "what can we offer that is safe, that reflects our values, and also reflects how important our community is to us?" 
The answers didn't come straight away. But standing back now, it's clear to see that these murals help to create a focal point for creativity in the borough. They celebrate new relationships and new ways of creating work in the midst of a pandemic. 
For Paint the Change's 200 Nationalities, One NHS mural on our front wall, it meant forging a completely new relationship. Our Development Manager, Rosa Dunn, picked up a phone call from Paint the Change one day, and they were offering exactly what we'd been thinking about: Art that reflected the community, and could fit around social distancing. It's been fantastic to engage with an organisation whose values are so similar, and to see people take an ownership of the building through the flowers they submitted for the mural. It was an incredible chance to celebrate everything that we've grown to appreciate during this period. This project has also given us the opportunity to show publicly our thanks and gratitude to the NHS and front-line workers who are helping so many families and individuals through the pandemic. I saw some of the flowers as they came in with their accompanying stories about what the NHS means to them on an individual level – each poignant, heart-felt and inspiring. 
Then for our Redchurch Street back wall, there was a sense of Camille Walala, a really high profile artist coming to us as part of the inaugural London Mural Festival, and the fact we were able to showcase the second side of our building with Belleville, this stunning piece of artwork which attracts an audience but in a different way. 
Looking at them both together, there is such a sense of the joyfulness of art to behold. So many of us have been inside, working away, facing inwards, on furlough, or focused on surviving through this time. The murals have helped to boost morale within our team and hopefully our community too. 
Our building is also home to an array of creative businesses who have been able to access their workspaces throughout lockdown, and I remember meeting some of our residents and them saying "it's so exciting being in this building at the moment, it feels as if Rich Mix is really making its mark in the borough". There was a sense of pride from them, that they were part of this arts venue that was attracting such a lot of attention for very good reasons. I am really interested in the growing awareness and appreciation around murals as public art. When you think of Chila Burman's installation at Tate Britain and how much joy and delight that brings – we've had very little joy in the past year, haven't we?  
As very different art forms, each mural speaks to you in different ways, and sends different messages. Both also meant a chance to connect with communities and groups we haven't been able to see for so long. For the children that were involved with the 200 Nationalities mural, I just think, isn't that brilliant, that they can say "that's part of me, I drew that".  
In fact a whole section of that mural is just a year group from a certain school, and the school trips that were planned can hopefully take place again as we begin to open up, so that we can share their delight in seeing the flowers. 
Looking back at it now, it's about taking stock of what the pandemic has meant, and how it has affected peoples' lives, it's about reflecting, and having a living memory of what's going on. 
Like a living archive of the pandemic so far? 
J: Yes, because none of us are ever going to forget what's happened in 2020 and 2021, and you do need to be balancing some of the gloom with some of the hope, some of the new collaborations with some of the loss. 
I think in the past fifteen months we've been finding new ways to talk to people and to say who we are, and there's a lot there that we can build on. For instance, I love spotting tweets from people who are walking past our building at night that say something along the lines of "oh my god have you seen what's happening at Rich Mix?!"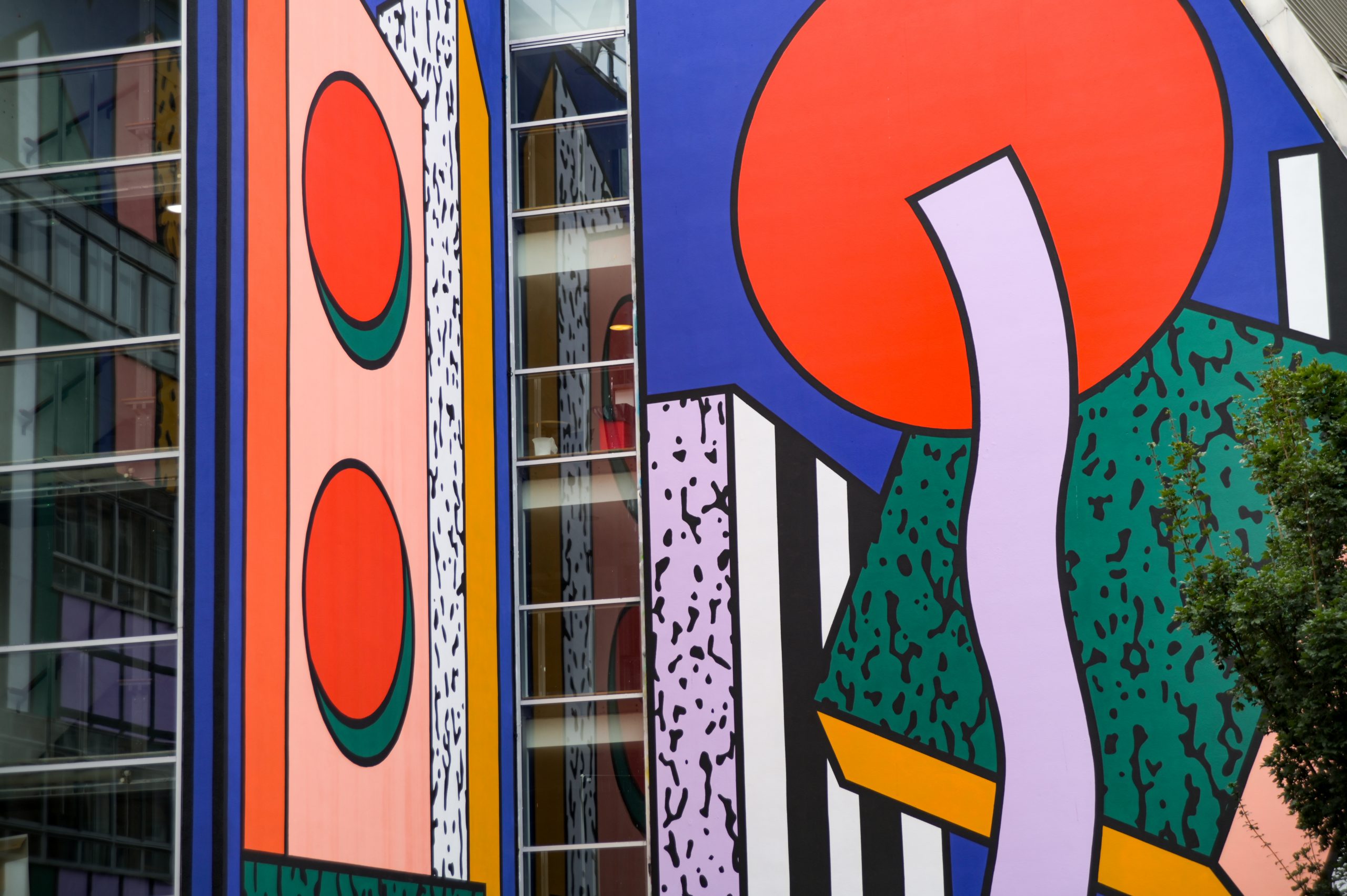 It's now been over a year since our building first closed due to coronavirus in March 2020, as with most of the UK's arts centres. Rich Mix's reason for being is to celebrate the cultures of the world in East London, and it's a building that we know is an important space for many. What has been the main challenge for Rich Mix during this time? How do you think the team have overcome this?
  
J: Initially it was purely about survival, and about how to do that when we suddenly lost 90 per cent of our income overnight? We've been hugely supported by Arts Council England and the other trusts, foundations and of course individuals who has supported us, because – needless to say – without them, we wouldn't have survived.  
I think on a personal level, it's been very much about "how do you keep a team together", how do you keep that sense of hope when some people are working, some people are on furlough, and you are all isolated across a huge area? For me, the biggest challenge has been to keep that motivation, keep that passion and commitment alive, in such difficult times – and to ensure that people aren't exhausted by the continuing challenges.  
Now that we've been living through this for over a year, it has felt as if we were firefighting all of 2020, but it was such a wonderful moment when we re-opened in September. Then to go back into lockdown in November just felt… pretty devastating. And I think even worse in early January to come back after Christmas, because we all felt quite rejuvenated or refreshed, and even though we could all see it coming, I just… it was utterly devastating just to go completely into lockdown again, and to feel that sense – "oh my goodness, we're here again, how do we start again?"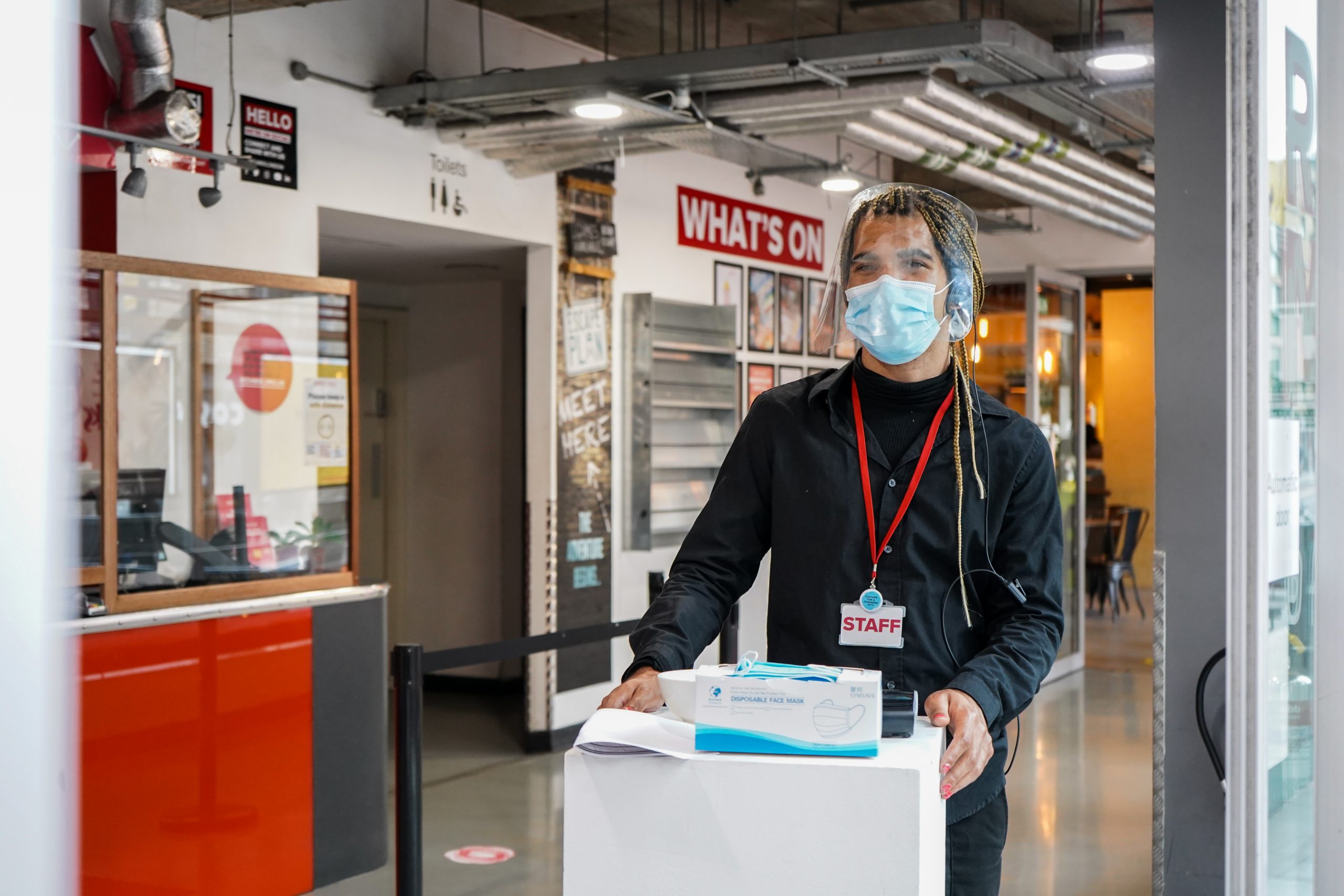 Keeping the hope alive is an ongoing issue that I am sure a lot of other organisations share, especially where the arts and culture element is very low, or hardly exists – at least in the first lockdown. I think another aspect we'd share with almost all other venues is the changing state of play. It's a feeling of not knowing what's coming next, you don't know how best to prepare, all the best-laid plans constantly needing to be reshuffled. And then the personal impact of the pandemic: There is now such a blur between work life and outside of work life. What I think we do as a team really well is that we are very supportive of each other, and we've opened up lots of ways for people to talk. Probably more so than any time in our history, we've held more discussions across the whole staff team, from everyone in every department, no matter what their job role, and have been able to come together and talk. That's been a huge part in how we have kept people hopeful and kept us working to common goals. 
My biggest fear is for what the cinema and live music industry will look like at the end of all of this. We've had a great opportunity to restructure our Take Part programme, and I think that's been a real opportunity that we have had the past year to rethink, but when I consider the live music and performances that we are so famous for – I wonder when will that world come back to us, with 400 people in a crowded room sweating and celebrating and hugging... 
Our diversity across art forms, platforms, stages, all of those things will help us. When we first were reopening we were able to consider which parts of our business model we could shape more easily and evolve when we can open our doors once more.
Can you tell us one highlight from the process of creating each of these murals?
  
J: Well for me, the highlight from the Belleville mural was seeing the cherry picker going up and down and understanding how they put it together. I really like that technical side of things, because I'm always going "how on earth did that happen? How did they scale it up and down? How are they working out that?"
Then the highlight from Paint the Change, was meeting Iranian-Canadian journalist and filmmaker, Maziar Bahari, who started the project back in 2015. Once you learn more about Paint the Change, you can't help but be impressed by the work that they do across the world in terms of community crowd sourced murals. Their real aim is about representation in public art, in public spaces, and I hope we can work with them again in the future on other collaborations. 
I didn't actually get to meet Maziar until right at the end of the process, but I did get to see all of the work Paint the Change had done previously with young people across East London in pre-lockdown workshops run by ATMA and Efe culminating on this huge four-story mural that are attached to our building's louvres. To watch all of the flowers coming in, and the artists and school children that were involved, all of the project's participants, it was quite something.  
It was also fantastic to have a visit from our local MP, Rushanara Ali, and to be able to show her the murals – she also said a few words at the reveal of the 200 Nationalities mural.
What do you hope the murals inspire in people who come down to visit them?
  
J: Hope, optimism, sense of belonging, sense of ownership, celebration of diversity, cool art, and perhaps think about embracing their own creativity. Something bright in a sea of doom and gloom. Hopefully it brings a smile to somebody's face. 
The fact that we can still have the Rich Mix experience without it being within our four walls. You don't have to come into a building to know what Rich Mix is about. A year ago we were asking ourselves all sorts of questions – "how do we animate the building?" "How do we make Rich Mix more interactive?" "How do we do more than that?" Our strap line is 'Culture for a Changing City'. This is a changed city in a way that we never imagined possible, so how do we come back to that vision? How do we come back to embracing our communities? Despite the very difficult environment we are living in, these public artworks celebrate a shared joy in creativity and the community, representing the best of all of us.  
---
Now that restrictions have lifted and the sun is out, make a trip to Bethnal Green Road and Redchurch Street when you next have time, and come and see the murals for yourself.  Our cinema is also now open once again, with a special offer of £6 for all tickets to celebrate the return of the big screen experience – see our full cinema programme.
Have you seen our murals? What do you think? Tweet us or send us a message on Instagram to tell us your thoughts. What would you like to see on our building next? 
Don't forget to tag us in your photos, so we can see all of your fantastic pictures…
Belleville by Camille Walala: #CamilleWalala #RichMixLondon #LondonMuralFestival 
200 Nationalities, One NHS by Paint the Change:  #200Nationalities1NHS