What is a postcard? What memories do they hold? This year, Art Hoppers invite you to open tiny windows into your personal journey's by drawing declarations of happiness ready for the post! Postcards are as much for the postman as they are for those closest to us – A 'wish you were here' for all to see. If a postcard inspires the memory of a happy place in miniature, perhaps re-imagining the stories and pictures that go with it are a way of connecting with our happiest and most creatives selves at large.
Join us to celebrate communication and the playful visualising of landmark moments in our lives. Paint pictures, design stamps, write messages. We'll be tipping our caps to World Post Day (9 Oct) in gratitude of the global system, which launches our intimate stories and helps conversations take flight around the world.
Vote for 'Postcards From a Happy Place'! If you like the sound of our event or enjoyed taking part in it, please vote for us to win THE BIG DRAW FESTIVAL 2019 – PEOPLE'S CHOICE AWARD. Thank you in advance!
---
A huge thanks to Cowling & Wilcox for supporting our event with glorious art materials including beautiful Daler & Rowney watercolour postcard pads (12 sheets) for you to paint your images on, water colour pencils, paintbrushes, non-soluble fine line pens, pencils, rubbers, travel sticker packs and Rich Mix cards.
We will also throw in some badges and postal stamps so you're all set to create personalised postal art!
30 lucky families will get their hands on these goodie bags – worth approx. £8 each – on the day of the event, along with Big Draw certificates and stickers!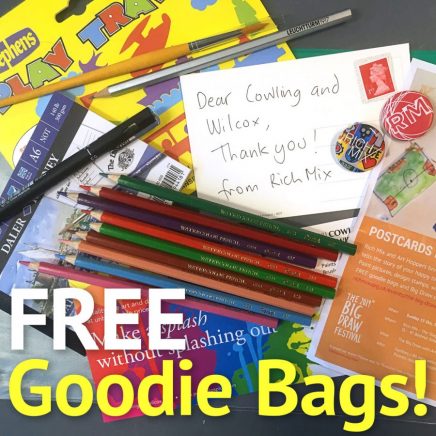 ---