As part of Rich Mix's wider family, we find both Asma's activism and outlook completely inspiring.
On tough days like these, Asma's interview below has made us think on the idea that many more similar projects can be borne from such stages of reflection, like the one we now enter.
And yes, there's light at the end of the tunnel. Asma set up You Make It (YMI) from her kitchen table, fuelled on "hustling and determination", which has now evolved into a creative programme for young women to access tools, networks, experiences and the confidence to transform their lives through personal empowerment.
This takes place through workshops, mentors and work placements, with 83 per cent of YMI's graduates now in paid employment, working on their own start ups or gaining places in formal education. Asma explains more below about YMI's incredible impact to date.
As we find ourselves in increasingly uncertain times, we hope Asma's interview below provides a welcome distraction, as well as some points to rally around. If you can, let her motivation and passion spur you on with your own projects, too. Let's get to it!
Rich Mix: How did you establish You Make It?
Asma Shah: With no money, just a lot of hustling and determination! YMI was set up through partnerships, me reaching out to people and places who I could sell my vision to, and who I knew would mutually benefit from joining forces with my mission. I also think being so excited, passionate and clear about why I wanted to get it all going when talking to people really helped…passion is infectious. On a purely practical level, I started it from my kitchen table, where I continued to work in between paid work at every spare moment I had. Though the novelty of having a 10 second commute to work did die down eventually and I was very excited when, two years in, I was finally able to rent desk space locally and not feel so isolated.
RM: What motivates you as an activist?
AS: Equality and inclusion. The work we do at YMI is about direct intervention in the lives of young women who've wrongly been overlooked because of issues around race and class, not just gender. Our work is all about making sure they're able to feel the power and potential within themselves and are able to get to where they want to be in life. We also work with partners to help them understand how to become stronger allies for equality, diversity and inclusion within and outside their workplaces.
RM: What's something you wish more people understood about You Make It's work?
AS: Anyone who has ever engaged with us understands that what we do, the relational and holistic nature of our work, well it truly does change lives. Other people sometimes think we are an employability scheme, rather than an empowerment organisation. While it's true that our women go on to secure work that's meaningful to them or even go on to establish their own start-ups, and we do give practical help to enable them to reach these goals, these outcomes are something that fall out of our main aims. Our focus is to develop their confidence, self-belief, awareness, sense of entitlement, improved mental health, as well as the networks and knowledge to stand out and push ahead in life.
RM: Are there any activists, entrepreneurs or contemporaries whose vision has inspired you?
AS: I'll be honest, the work I do and the conception of it, none of that really comes out of inspiration from what others do. It's really something that has fallen out of my own lived experiences as a brown woman from a less privileged background trying to get ahead in the face of institutional racism and classism, especially in the creative and cultural industries. That said, there are some wonderful people I've met along this journey who are guest speakers on our programme – like me, I know they do what they do because it comes from a solid heart place and they are unstoppable in their mission to make things fairer. Shout out to Tobi Kyeremateng, founder of the Black Ticket Project, and Sade Brown, founder of Sour Lemons [pictured in featured image].
RM: If you were living a parallel life in another universe, what different talent would you have pursued?
AS: I'd be a novelist. I am very often told I should write a book and have many stories to tell, but there's something blocking me there, not sure what. I guess I could do it in tandem with YMI….
RM: You Make It was established almost ten years ago. How have the issues facing the young unemployed women you're in contact with changed in that time?
AS: When I started all this, it was strictly unemployed women we worked with and few to no graduates. Over time though, outreach in job centres has led us to discover increasing numbers of those who are underemployed and working zero hours contracts, as well as those who've been to university but are from BME working class backgrounds and so struggle to find employment like their middle class, white and more heavily networked peers.
RM: And how has your approach to You Make It's work changed over the years?
AS: We are user responsive, meaning we constantly develop and grow our programmes based on what our women say they need. We've basically doubled the range and length of our services to women over the last 10 years. Some examples of changes to services are linked to the impact of austerity e.g. many we work with suffer from depression, but it can take as long as 1-2 years to get to the top of the list for therapy from the NHS, so we've had to raise money for our own in-house, 1-1 service.
Recently we've also launched a new series of modular workshops called You Change It for organisations to learn how to become stronger allies in the fight for equity and inclusion at work, and to learn from the YMI approach to recruit, retain and help progress young people (You Change It, check our news page for more info).
RM: Do you have a favourite film or book?
AS: That's an extremely hard question because I'm a book and film fiend. If I had to choose a book that made me cry and think as a child it would be To Kill A Mockingbird. Something I saw a couple of years ago at the London Film Festival that also sticks with me still, Ray and Liz, about artist Richard Billingham growing up in Thatcher's Britain – every scene is a piece of art and social commentary. When I left the cinema I felt I'd been kicked in the stomach, it was a really emotional experience.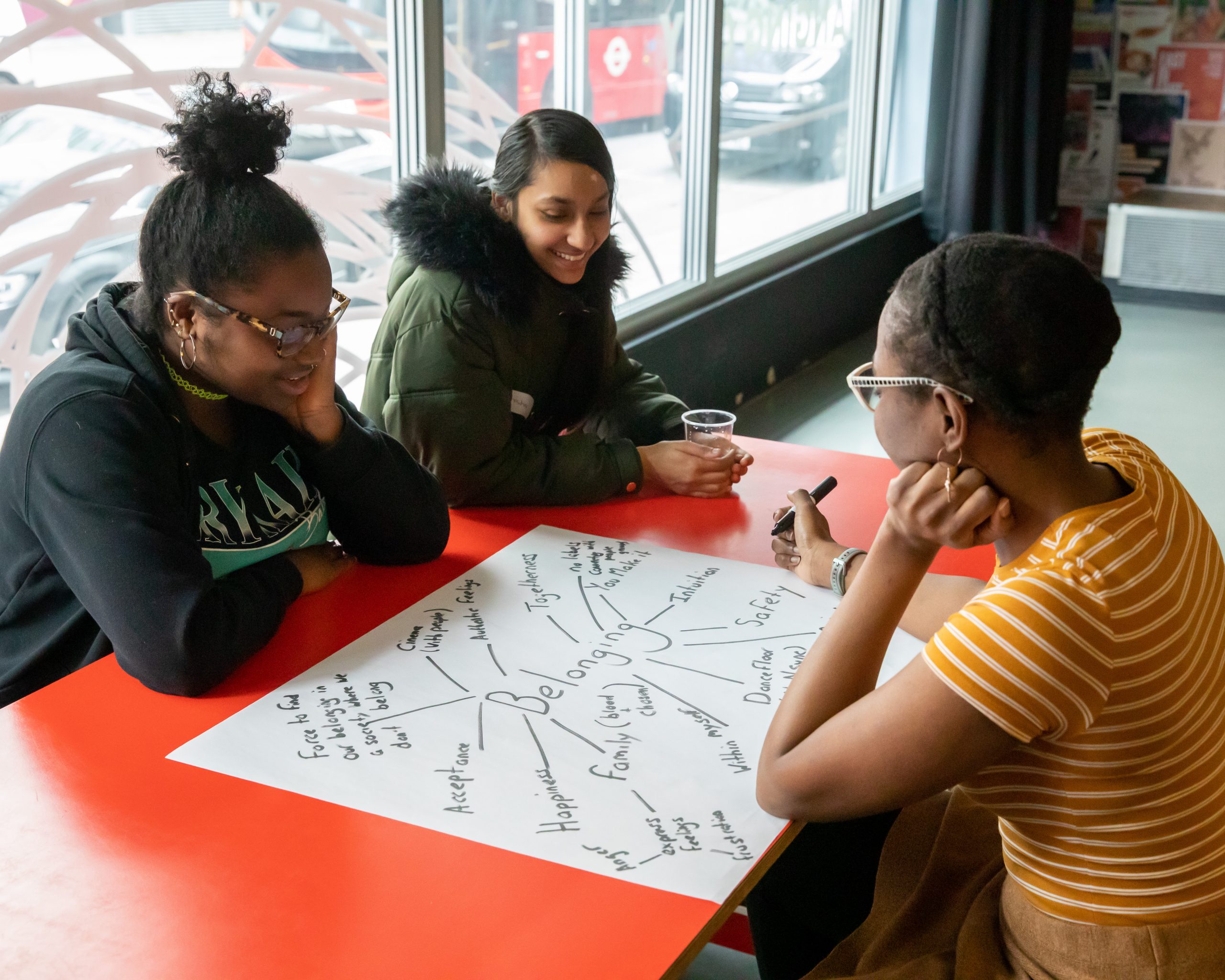 RM: We're celebrating our regulars and repeaters this season. What's your favourite memory of an event here?
AS: My friends from Asian Dub Foundation did a gig here last year and I loved it because they're so much the fabric and story of the East End and its fight against racism and brutality.
RM: How can someone get involved with You Make It?
AS: There are so many ways, volunteer as a mentor, deliver a workshop, host a work placement, take part in some of our new You Change It courses. Email me at asma@you-make-it.org.
RM: Do you have a mentor? What's some of the best advice you've been given?
AS: I don't have a mentor, but I live by the words "love what you do and do it with love".
RM: What's your proudest moment in You Make It's journey?
AS: We are a small and local charity and focus so hard on the work we do with women, that it's hard for us to make noise about what we do at a national level. It was therefore amazing to be featured as an architect of meritocracy in a special feature in the Financial Times, and to also have ended up in the Independent's Happy List – a celebration of people who make life better for others rather than focusing on becoming rich! Apart from this, I am always insanely proud at every graduation event for our women, because it's here we really get to see and hear how profound our impact on women truly is.
RM: Thank you so much for your time, Asma!
Discover more about You Make It here.
Find You Make It on Instagram.
Keep up with You Make It on Facebook.
Follow You Make It on Twitter.
And finally, add You Make It on LinkedIn.