We're updating this blog on a rolling basis with updates from the project. Scroll down to find out the vision behind our new space!
Latest update: end of March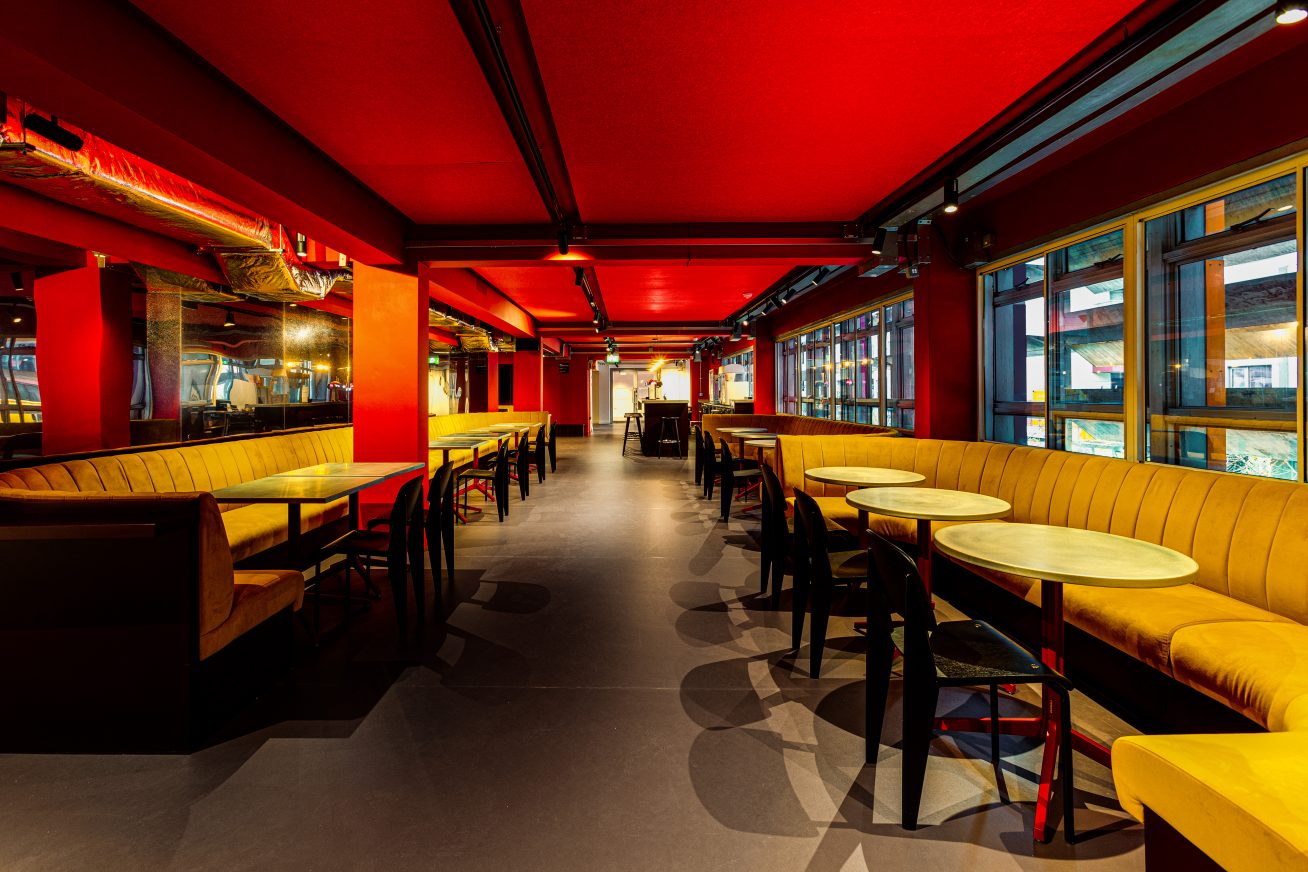 We are open to the public!
We opened our doors at the start of February, welcoming first of all the whole project team along with Rich Mix staff and Board to raise a glass and celebrate everything we have achieved.
We then welcomed our Members, our creative partners and a whole host of some of our nearest and dearest stakeholders, including funders Mayor of London, over a series of launch events, showing off our new space, and giving them all a sneak preview whilst we are still learning and growing with the new space.
Rich Mix team and Board joined by Mohammed Ahbab Houssain, Speaker of London Borough of Tower Hamlets Council.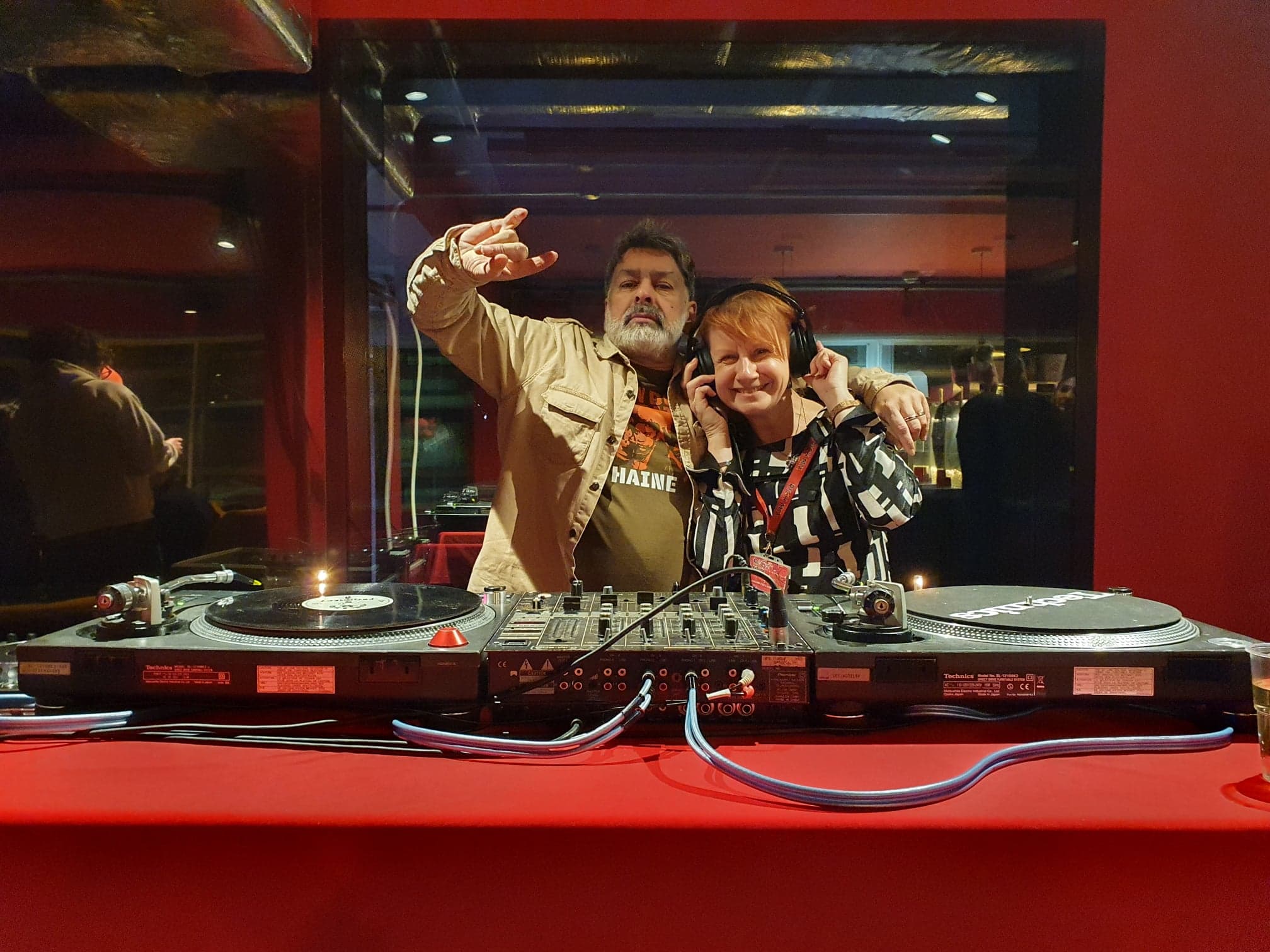 John Pandit, Asian Dub Foundation and Rich Mix founding member with Judith Kilvington, CEO on the decks.
We are currently open from 5-11pm. So whether you're visiting us for an event or a screening and want to pair it with a drink and chat, or whether you want to get away from the hustle and bustle of Shoreditch for a try out of our comfy seats, drinks and wifi – we hope to see you soon!
We're updating our opening times and offer on our Visit Us page.
…and watch this space, as there'll be more to come, including daytime opening with food and coffee once we're fully on our feet!
---
30 DEC 2021
As the year draws to a close, we're taking stock of the progress we've made in our soon-to-be revitalised first floor. Take a look at some of the highlights from the past few months of construction…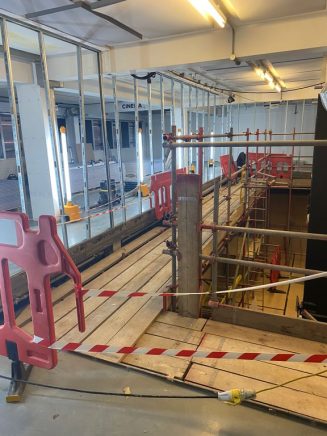 The scaffolding in The Stage was up for around six weeks whilst we took down the windows separating The Stage from The Mezannine and started replacing them with an acoustic wall. This will mean live events can run in harmony alongside our new Cinema Bar without one disturbing the other!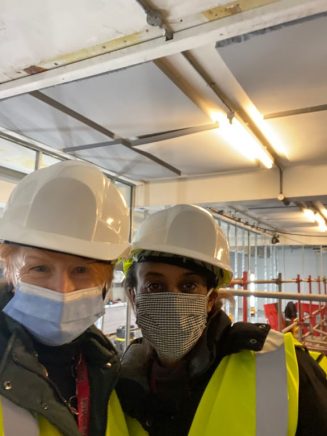 Judith Kilvington (CEO) and Negede Assefa (Head of Cinema and Operations) checking out the newly opened-up space.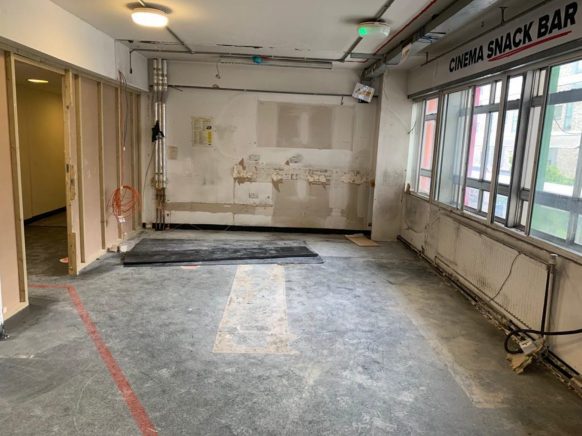 Next our Cinema Snack Bar was gutted – it looks much bigger with the side room knocked through. This is to make way for a more open entrance to the new Cinema Bar (hopefully with a lot less queuing!).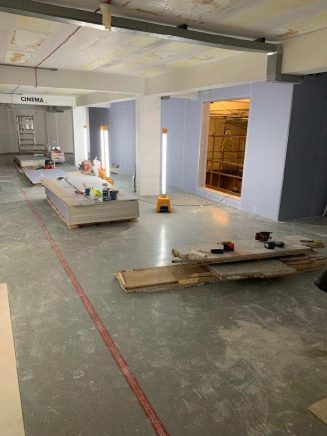 Once the new acoustic wall was in, we could remove the scaffolding in The Stage and get it ready once again to host our live events. It is so important to us that there is still a view down to what's happening below – so we have sizeable acoustic windows to give Cinema Bar visitors a vantage point into our buzzy live programme.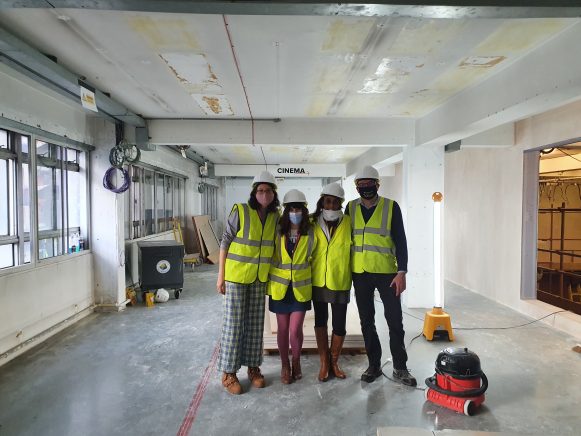 Another site visit with the Rich Mix team! Selma Willcocks (Deputy CEO / Head of Marketing and Communications); Nikki Smith (Head of Events and Production); Negede Assefa and David Beidas (Client Representative).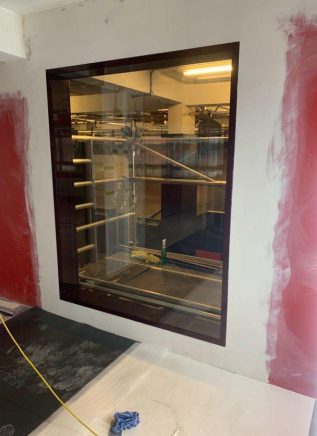 Time for the acoustic windows to go in…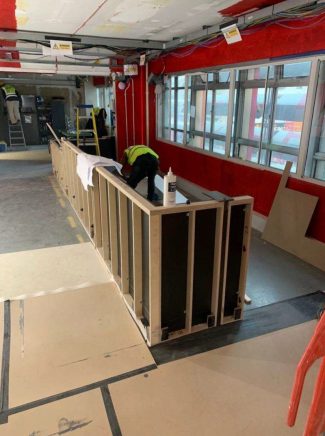 …and the bar to start taking shape. As well as giving the walls a first lick of colour – it had to be red!
Testing the new banquette seating is an important job. Top comfort marks were awarded all round by Jack Edwards (Programming and Events Assistant), Selma and Negede.
That's what took us up to the end of year break. We're really happy with how far the new space has come and so impressed by the hard work of everyone involved, especially everyone at 3Interiors. We appreciate the support of all of our audiences and residents for bearing with us during times of disruption.
Of course, there are some not-so-photogenic moments, and no building project is without its hiccoughs, but we're sure you'll love the end result as much as we do! We hope to include a save the date for the opening in our next update.
---
20 OCT 2021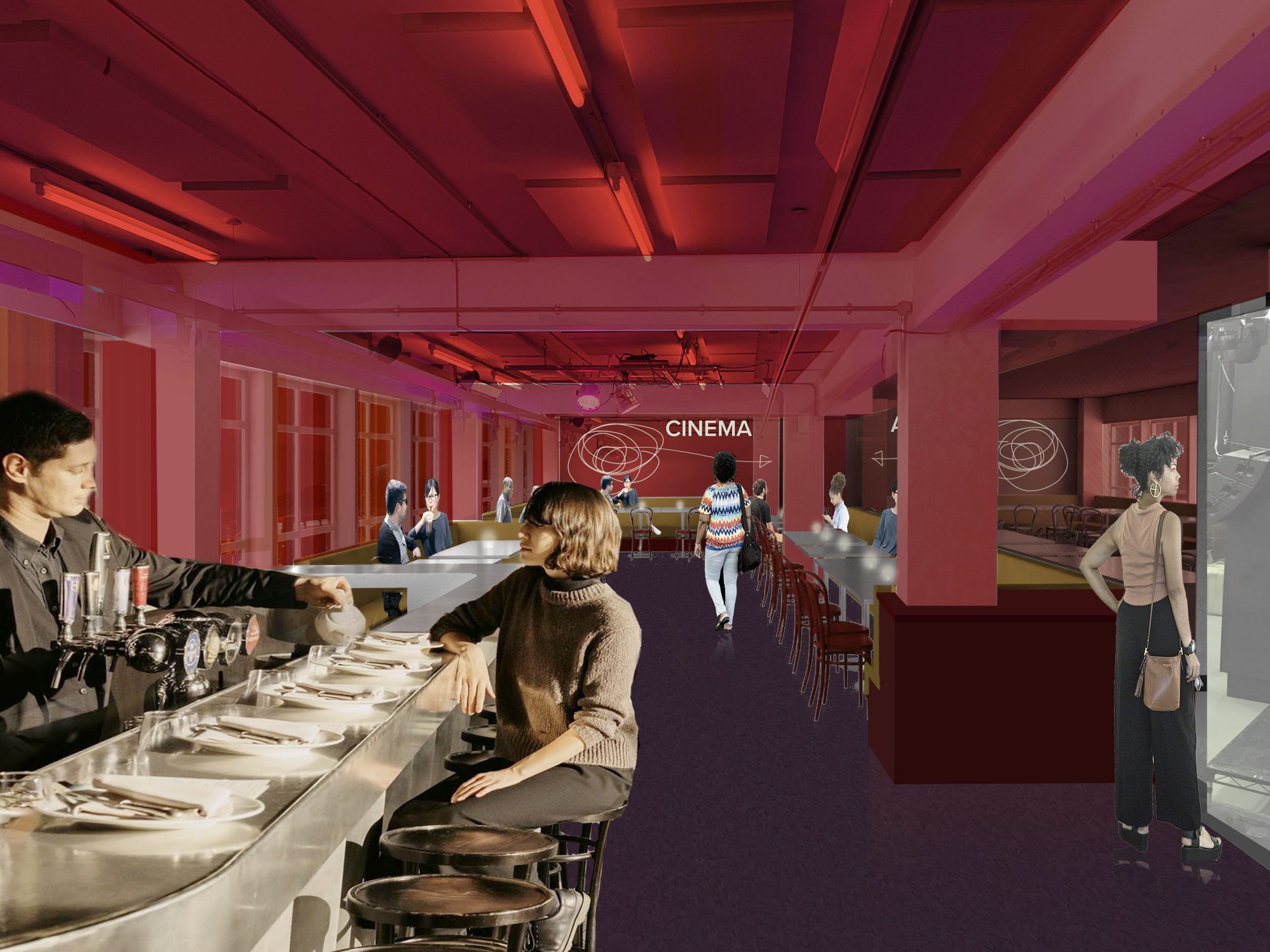 The next few months will see the transformation of part of our first floor, also known as the Mezzanine Gallery. The works will create a space for visitors and residents to kick back, hang out and enjoy a snack and drink before and after our screenings, workshops and events.
This first phase of our capital vision looks to revitalise the first floor where thousands of cinema-goers and exhibition visitors pass through every year. Thanks to support from the Greater London Authority's Good Growth Fund, we are:
Creating a new Cinema Bar – a space for matinee and evening audiences to mingle, chat and meet, as well as a café-style space for families, young people and residents to plug in and chill out during the daytime. This new space, with visibility onto Bethnal Green Road, allows us to provide an accessible and improved drinks and snacks offer. We've heard your feedback on our front-of-house cinema experience, and we've seen the queues, so we can't wait to have a new destination that works much better for everyone.
Improving our provision for artists with a new Green Room giving direct access and a view into our biggest live events venue, The Stage. Performers and musicians will now have two dedicated green room spaces from The Stage, allowing us to house bigger line-ups more easily.
Maintaining a space to exhibit visual art. Providing a gallery area, usually profiling the work of local or emerging artists, is still an important part of this space, with cinema audiences chancing upon experimental and thought-provoking visual art as they pass through.
Alongside these improvements to our first floor, we are also fixing some important (but hidden) elements of our mechanical and electrical systems. While these aren't as noticeably impressive as (we hope) the first floor will be, they are intrinsic for us to ensure we can spend more time and money on delivering culture and opportunities. Thanks to Arts Council England's Culture Recovery Fund for supporting us with this work.
This is the first phase of the wider Reimagining Rich Mix vision. Reimagining Rich Mix is all about making the most of our building, and giving people more ways to interact with us. It looks to: improve facilities for artists and communities; create a welcoming and open building; ensure our future sustainability by addressing building, mechanical and electrical issues; and upgrade our bars and performance spaces.
The works start on 21 October 2021 and are due to last 3-4 months. The first floor and The Stage will be affected, so please bear with us whilst we reroute some audiences during this time. We are still very much open with a somewhat reduced, but buzzy, live and cinema programme.
We can't wait to welcome you to the new space!
---
We are working with:
ARCHITECTS
Adam Khan Architects is a practice with an established reputation for built work of sensitivity, elegance and refinement which addresses key issues of our time: social inclusion, sustainability and the vitality of public space. Their design methodology is based on careful study of context, collaborative working methods and an active process of client and user engagement, underpinned by a commitment to the social potential of architecture. They work at a wide range of scale – landscape, city, building and room – enjoying the cross-fertilisation that this allows. Strategies for renewal typically include both renovation and new building, and look to exploit the latent potential in any found condition. They have experience delivering complex projects including significant cultural buildings, high-performance sustainability and community renewal projects. adamkhan.co.uk
Citizens Design Bureau was established as a co-operative company of architects. They enjoy working with interesting people to make unusual things happen, developing rigorously practical solutions that are woven with ingenuity and make people smile. citizensdesignbureau.net
PROJECT MANAGEMENT AND COST CONSULTANT
Equals Consulting is a leading independent cost and project management consultancy; they make projects happen — helping clients achieve the best possible results with tailored services and technical excellence. equalsconsulting.com
CLIENT REPRESENTATIVE
New Stages Limited is one of the country's leading experts in capital project management and consultancy for arts organisations. newstagesltd.com
CONTRACTORS
3Interiors specialise in providing fit-out and refurbishment solutions that exceed expectations. 3interiors.com
MECHANICAL AND ELECTRICAL CONSULTANT
Skelly and Couch is a dynamic firm of building environment and services engineering consultants based at Union Wharf near Old Street, London. skellyandcouch.com
STRUCTURAL ENGINEER
Momentum are a creative, award-winning civil and structural engineering practice. momentumengineering.com
PLANNING CONSULTANT
The Planning Lab are experienced planning advisors to cultural, heritage and creative sectors. theplanninglab.co.uk
ACCESS CONSULTANT
David Bonnett Associates provides advice on Inclusive Design to clients and architects working on projects ranging from small visitor centres and landscape schemes to large-scale masterplans, transport interchanges and residential developments. davidbonnett.co.uk
FIRE SAFETY CONSULTANT
The Fire Surgery Ltd is an independent fire engineering design consultancy based in the City of London. They specialise in solving fire safety challenges for all manner of building types and uses; ranging from private residential design to significant mixed use developments. firesurgery.com
---
Got an idea about what we can offer in our new Cinema Bar? Or something else you'd like to tell us about your experience of our building? Let us know on feedback@richmix.org.uk. We'd love to hear from you!