Our film education programme for primary school children has wrapped on another year of out-of-this-world storytelling, filmmaking and team work. We are so excited to be able to share the final films of this year's project – themed 'The Future Is Ours' – hit play below to watch the films!
As the schools and teachers returned to in-person lessons, this year's Pic 'n' Mix was a great chance to discuss what we can look forward to, as well as reflecting on changes our current society can make to improve the future for generations to come.
'The Future Is Ours' used an emphasis on literacy and visual storytelling, with local school children encouraged to write, direct, perform and edit films based on their individual and collective visions for the world they wish to create and live in. As you'll see from their videos above, this was a theme all the schools took on with aplomb. From aliens to spaceships, underwater adventures and even a Brick Lane Frankenstein, each film is packed with imagination and creativity, as school children learnt new ways of sharing their visions of the future through script writing, filmmaking, acting and directing.
The KS2 School Ambassadors on the red carpet @RichMixLondon pic.twitter.com/EPGn4fsNX1

— Thomas Buxton Primary School (@thomasbuxtonsch) June 27, 2022
We loved inviting our local schools into our building to watch the premiere in our cinema screens this week for the Pic 'n' Mix Film Festival.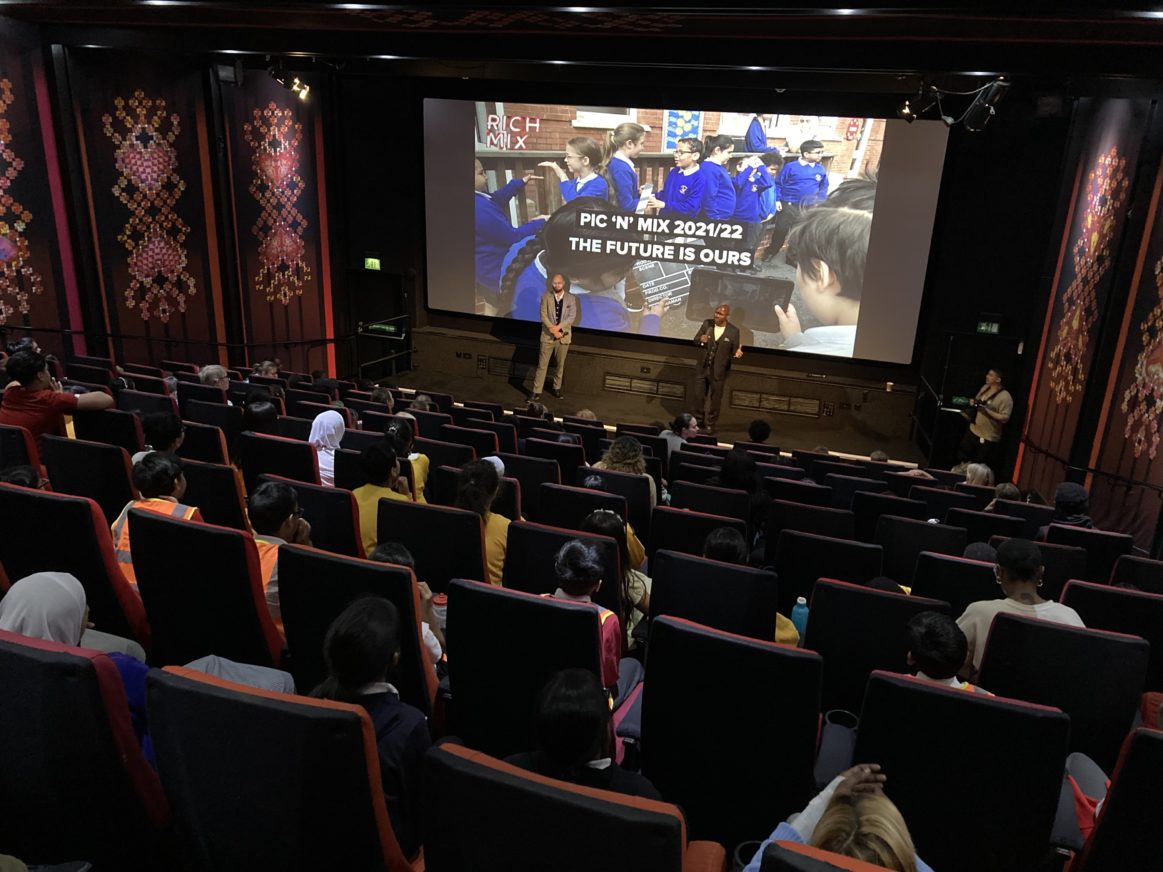 On Mon 27 Jun the students were able to walk the red carpet to the film screening, as well as taking part in informal Q&As after the premiere with Associate Artists Amani Saeed and Mr G. Some of the children also worked with our Marketing Team to reflect on their experiences through the programme, creating tweets and social media posts.
What a way to mark the end of a fantastic year of Pic 'n' Mix – our fifth year of the programme! If you fancy coming to see it in-person, don't miss the Pic 'n' Mix Exhibition from Wed 7 Jul in The Lab.
With thanks to all the teachers and children at:
St. Anne's and Guardian Angels Catholic Primary School
St. John's C of E Primary School
Osmani Primary School
William Davis Primary School
Thomas Buxton Primary School
Christ Church C of E Primary School