Our film education programme for primary school children has finished for another year, and we are so excited to be able to share the final films of this year's project – themed 'My Story, Our Story'.
After a year like no other, all of the schools and artists involved can be so proud of their achievements across this year's Pic 'n' Mix. 
This year's 'My Story, Our Story' theme set out to encourage self expression and creativity in the young people taking part, supporting recovery from their experiences of 2020 and 2021, including issues relating to COVID and the discussions around police brutality relating to the Black Lives Matter movement.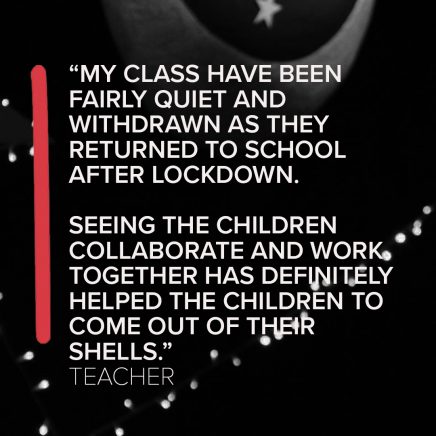 While we absolutely love the final films each school produced, they represent months of hard work, discovery and understanding that took place in the run up to pressing 'record'.
Throughout the year's myriad activities, Pic 'n' Mix looked at developing six core areas of skills for school children, teachers and associate artists:
Our Takeover Day gave pupils the chance to spend the day behind the scenes and screens of our cinema, learning about the creative industries and leadership in the arts.

We ran literacy workshops in six schools with two poets and writers working directly with children and their children to create scripts for the films based on a series of

poetry, writing and drama activities.

Max Dickter, our newly appointed Film Education Officer, ran filmmaking workshops in all six schools, working directly with children and teachers learning the fundamentals of filmmaking skills and post production technique and to complete a final film.

Here in our building, our Film Education screening this year featured Inside Out, chosen to enhance pupils' personal and social development. These screenings are designed for primary school children to develop an appreciation for the arts and audience members.
The Tower Hamlets Primary School Filmmaker Festival offered opportunities to showcase work for children and teachers from London and world-wide (even as far as Sydney!).
Our Digital Takeover Day gave young people the reins of Rich Mix's social media channels, providing students with more in-depth awareness of careers in the creative industries.
"I couldn't believe the difference in some of the children. Comfortable ad-libbing lines, giving each other constructive directions from behind the camera. They all showed each other great respect during this and were open to hearing different artistic ideas and expression."
— A teacher from a participating school
"This has been a project unlike no other that I have ever been involved in. Seeing the schoolchildren actively using their imagination to create poems and movie ideas has been a joy to watch."
— A Literacy Project Lead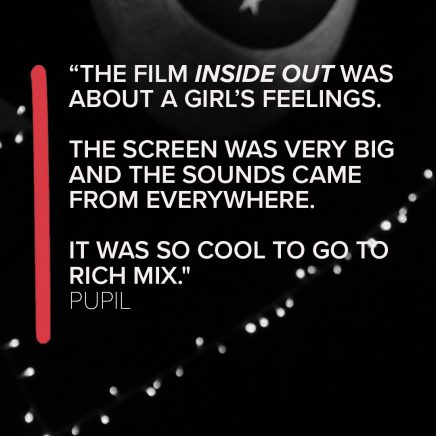 The opportunity for professional development for the Artistic Associates was one of the high points of this year's programme, which Amani Saeed sums up here…
"I've learned so much about facilitating for people in general – because I've learned that you just need to speak to children like people. That means using clear and direct communication, and maintaining a good sense of humour. I would feel much more confident delivering workshops in schools alone.
The reason I am glad to have learned this skill is so that I can pass on the learning and opportunities I have enjoyed to the burgeoning writings from my background in my borough that they may not have otherwise had."
One of the unexpected outcomes from this project was that facilitators reported learning a lot about being spontaneous, creative problem solvers and flexible as they had to adapt over a variety of Zoom, pre-filmed, and in-person workshops to deliver during fluctuating COVID restrictions. Never would they have imagined filming in socially distanced settings to create 'Poetry Professor' workshops that the students could watch in their own time, had it not been for COVID.
Although a major highlight of the programme in previous years has been when the children attended the Film Festival, we worked around still being able to host individual screenings by having separate schools in our building on separate days. As they love seeing themselves on the big screen, we still found a way!
With thanks to all the teachers and children at:
St. Matthias Primary School
Lawdale Junior School
Virginia Primary School
St. Pauls Primary School
Cayley Primary School
St. Johns C of E Primary School
---
Find out more about this year's My Story, Our Story programme.
Watch 2018's My Tower Hamlets compilation film.
Watch 2019's Tower Hamlets Stories compilation film.
Watch 2020's Green Tower Hamlets compilation film.
The programme is delivered in partnership with THAMES (Tower Hamlets Arts and Music Education Service) and supported by Canary Wharf Group, Derwent London, The Portal Trust and THAMES.