It could have been just a usual day at Rich Mix – except that there was nothing usual about it. For starters it was a bank holiday Monday, and who wants to work on a bank holiday? Unless work entails making puppets, storytelling and frolicking around with your family and friends at one of the most exciting outdoor festivals in east London – All Points East!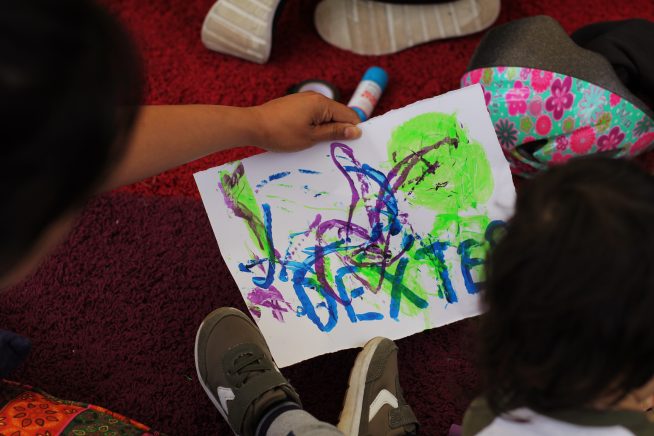 Instead of our Shoreditch-based home, the Rich Mix Team arrived at All Points East in Victoria Park armed with rolls of bunting and bottles of sun cream – we knew the weather was going to be glorious and we were fully prepared for it! We were soon joined by our artists, who in the past few weeks have been plotting a whole bunch of fun activities to get involved. Claire (Art Hoppers) and Temijen (Visual Minutes) tricked the most serious of parents and carers into getting down onto the grass (or one of fluffy rugs if you were lucky enough to find space inside our HEAVING tent) to show off their best crafts skills. And the competition was tough, considering some of the creations executed by the youngest festival goers.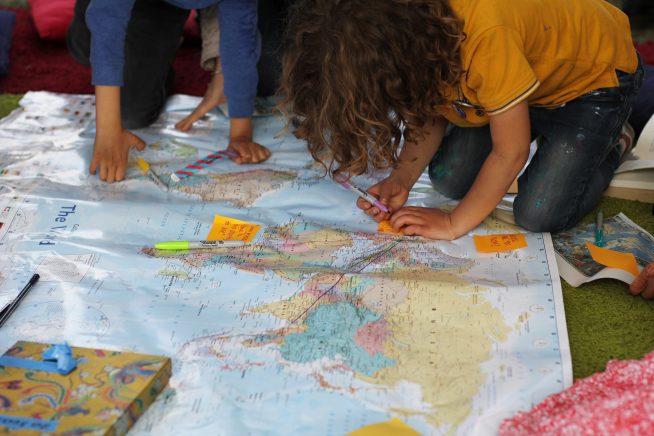 Next was the interactive story by Jum and Amber from Storycraft about a bagel lost in Brick Lane, which captivated parents and children alike. 'Playshop' by HEC Global Learning got everyone moving and thinking and many conversations ensued, like one about children running the world. Now, that's an idea for Rich Mix! For the timid writers in the crowd, Mr Gee ran a poetry workshop, concluded by an impromptu sharing of poems spanning themes of love, nature and…ice-cream.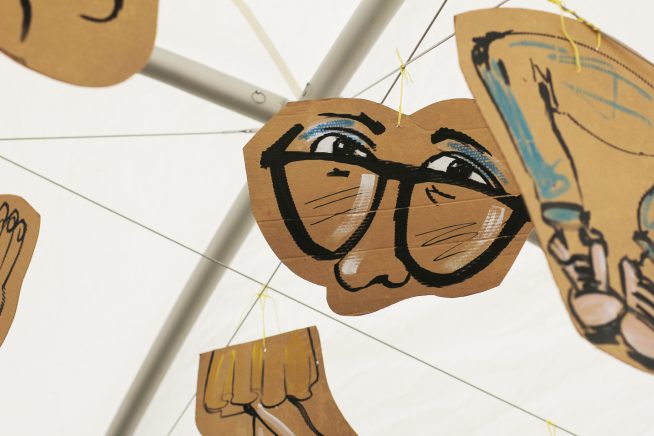 #BecauseWe'veRead Radical Reading club had us look at the map of the world and draw journeys from the furthest corners to Tower Hamlets. And in case you didn't know that Bow is the birthplace of the global phenomenon that is Grime music – Back2Bow Sound Walk offered a concise introduction to the subject and a chance to look at the local area in a different light, innit.
Throughout the day we welcomed around 300 people of all ages and genders, from all corners of Tower Hamlets and beyond. The atmosphere on the day was very warm and friendly, reminding us all why a sense of community is so important. 'I wish there were more places in this borough where we could come together as a community' – said a dad as he was getting up to leave our PLAY-HOUSE tent with his daughter holding tightly on to his arm. Many heads nodded in agreement and mine did too. We all need to protect and reclaim the spaces where spontaneous creativity and connections can happen, but the local council, arts centres (like Rich Mix), organisations and businesses will also have to play a key role in this process.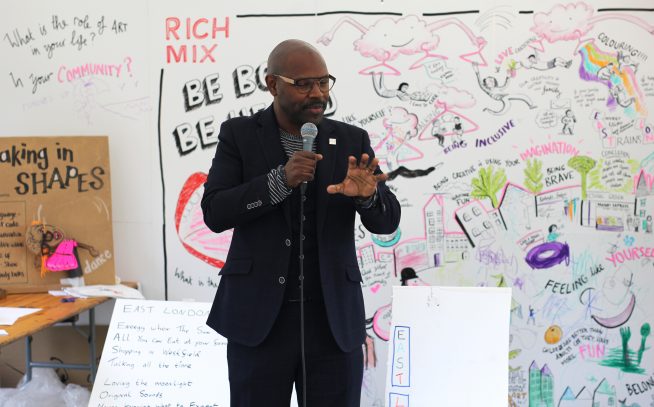 After a long day we took down the bunting and paper decorations. Still buzzing from the activity and conversations earlier, we headed back to Rich Mix. With us, we brought back a breath of fresh air and inspiration, which we'll be bringing into our future programming.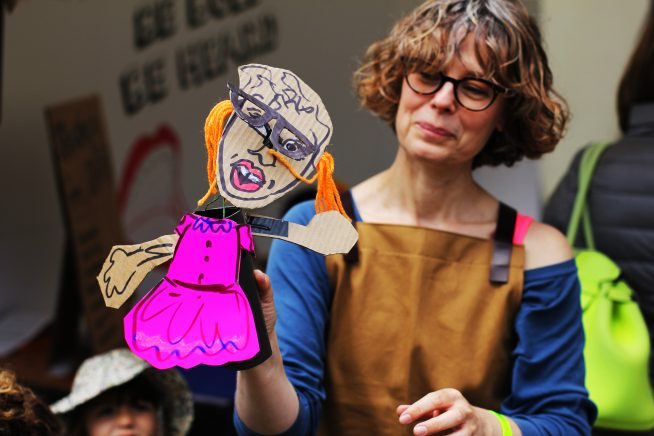 Rich Mix PLAY-HOUSE family festival at All Points East In The Neighbourhood was inspired by our summer season's theme of Be Bold. Be Heard. and included:
Art Hoppers (Claire Ward Thornton) presents Mobile Conversations – arts and crafts for families
Apples and Snakes present Storycraft (Jum Faruq, Amber Rose) – storytelling and puppet making for families
HEC Global Learning (Liz Allum, Triny Diaz) presents Playshop – philosophy and movement games for all ages
Mr Gee presents Identity of East London: Poetry Workshop for ages 11 +
#BecauseWe'veRead (Maryam Abdullah) and South Asian Sister's Speak (Sheetal Mistry ) presents Mapping Our Identities: Discussion and Craft Session
Generation Grime: Back2Bow Interactive Sound Walk (Martha Rumney, Simon O'Brien)
All Points Drawn: Visual Minutes (Temujen Gunawardena)
Images © Janet Onabanjo