We recognise that not just as an organisation, but as individuals, we have a responsibility to change our actions now so that we can have a cleaner, healthier future in our neighbourhood and the world. 
Rich Mix Goes Green is a year-long campaign packed full of exciting monthly challenges that will help us focus on our environmental footprint, and we would love for you to get involved too.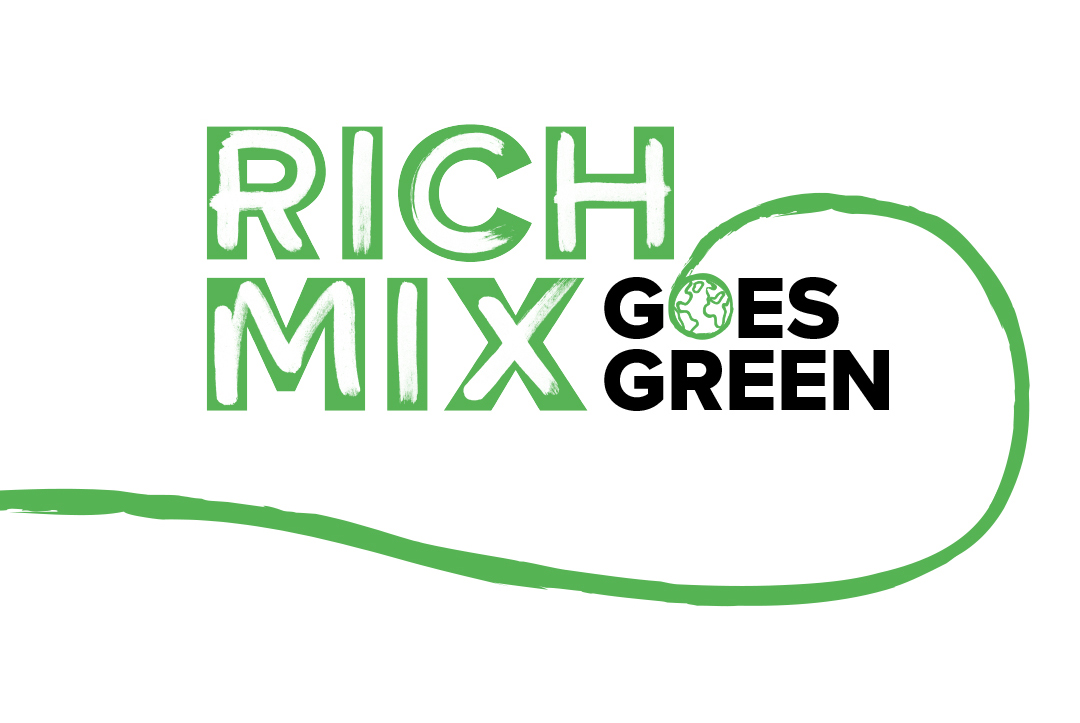 We are making it our policy to: 
SAVE ENERGY

 by reviewing our 

operations

 

and working practices. 

 
REDUCE WASTE

 by promoting best practices for recycling, and although we

 are

 already zero

–

to-

landfill we

 are

 constantly looking at cleaner ways to get rid of our energy and waste.

 
RAISE AWARENESS

 of the impact that both our 

organisation

 and individuals have on the environment, and to 

minimise

 the 

negatives 

effects of our activities by working closely with our community.

 
Each month for the next year as part of Rich Mix Goes Green, we will have a different focus: from growing your own food, to trying tasty meat-free recipes, and learning how to easily integrate more sustainable habits into our everyday lives. 
Across the year there will be fun challenges such as: 
Creating your own window planter and growing your own fruit and veg without buying any seeds.

L

earning more about the 

wildlife in our local area.

 

Tips on how to shop more sustainably.

Getting

 creative and mak

ing

 your own sustainable products

.

 
Find out more information about this month's challenge.
We will be regularly posting across our social media channels so that you can keep up to date and get involved (head to the bottom of the page for links to our accounts).
Our team are eager to get started, and we cannot wait to see how you get on too! 
MORE ABOUT OUR ENVIRONMENTAL POLICY
As an organisation, we believe in improving our environment in big ways as well as small, everyday steps. 
We have an environmental sustainability sub-committee which is made up of a cross-section of the Rich Mix team. This helps ensure that every decision we make as an organisation is done with our environmental impact in mind. In 2019, the Committee launched a campaign in the building, and since then, we have already started to make plenty of changes around the building and our day-to-day lives. Here are just a handful of the things we have been doing:  
We updated our front of house lights to energy saving LEDs and added in motion sensors!

 

 

Thanks to funding from UK Theatre Trust, we

 

ha

ve

 also replaced all our theatre lights with energy saving LEDs

 

 

Liaising with our caterers we

 hav

e eliminated plastic and switched to only reusable, washable and recyclable material.

 

We

 have

 worked with 

our caterers

 to provide more veggie and vegan options, and to reduce high carbon impact meat (beef, lamb and salmon) from all of their menus.

We

 have

 gone paperless in 

more 

meetings and incorporated environmental training for all our staff

We

 are

 actively aiming to include environmental themes across all of our 

programmes

, from in house cinema to at home take part events, like 

The Big Draw

.
Alongside the London Borough of Tower Hamlets Council's ambition to be carbon neutral in operations by 2025, we are committed to reducing our energy consumption by 49 tonnes… equating to 25% of our overall consumption (that is almost the same as size as a humpback whale!). 
Despite all the amazing improvements we have started internally, we hope to make an even bigger change by opening up our Rich Mix Goes Green campaign for everyone to join in. 
"We are committed to reducing Rich Mix's environmental impact, and to tackling the important issue of climate change in our community. Our building is home to all kinds of activities, and we will continually find ways to reduce our waste and save energy so that we can move towards the ultimate aim of being carbon neutral.
"We also have another role to play – one that is about bringing our audiences and friends together to raise awareness. In our recent Green Tower Hamlets Pic 'n' Mix film project with local schools, the issue of air pollution in the borough came up many times, as well as the impact of throwing away just one plastic bottle… We hope that our Rich Mix Goes Green campaign will give our team, residents, partners and audiences the inspiration to take on small creative actions to build a cleaner, healthier future for our neighbourhood and world."
– Judith Kilvington, CEO, Rich Mix
While climate change is a global, systemic problem that can seem overwhelming, by taking action at a local level we can make positive impacts in our environment.  
With statistics showing that Tower Hamlets is one of the highest carbon emitting boroughs in Greater London, continuing our work to reduce our impact on the environment is a key priority for our organisation.  
Let us make our neighbourhood a safe, healthy place, not just for ourselves but the wildlife all around us too.  
---
Do you have any suggestions for our challenges? Tweet us – we'd love to hear from you. 
Follow us on Instagram, Twitter and Facebook to get involved with the challenges each month, and remember to include the #RichMixGoesGreen hashtag so that we can see how you are getting on.