A cross-art, cross-cultural project, Dash Arts focuses on experiences of art as a phenomenon through which we engage and see the world. The company turns 15 years old this year and has worked with us across 100 Dash Cafés.
Below, we discuss the power of artistic and cultural expression in the wake of rising hostility to migrants and cultural separatism. We hear what it's like to launch Dash's current Season – EUTOPIA – a forensic artistic investigation into what it means to be European. We delve into Josephine's personal highlights from Dash over the last 15 years and why launching a Dash Season is like uncovering Aladdin's cave.
How can you get involved with Dash? Come along to the next Café on Wednesday 26 February or Wednesday 25 March.
Let's get to it!
Rich Mix: How did you begin Dash Arts? Can you give us a potted history?
Josephine Burton: Dash Arts began 15 years ago this year. I set up Dash with theatre director Tim Supple to create new work with artists abroad that would challenge the way we see the world. Over the years, Dash has embarked on epic Seasons of work across art-forms, languages and cultures – deeply investigating a particular part of the world or question for a number of years, such our Arabic Season, or Soviet Series or our current project, EUTOPIA, exploring what it means to be European.
Over an extended period of time within each season, I travel, run workshops, read, watch and listen to work and largely just ask a lot of questions and listen to people. We share our investigations through regular Dash Cafés, events with live performance and conversation, Dash Gigs, Dash Residences like our Dacha or the current Forum, Workshops and award-winning Dash Productions. We love presenting our Dash Cafés and Dash Residences at Rich Mix. We've also shown our work with our partners at venues including Sadler's Wells, Roundhouse, British Library, Edinburgh International Festival, Latitude Festival, Warwick Arts Centre and Luminato Festival, Toronto.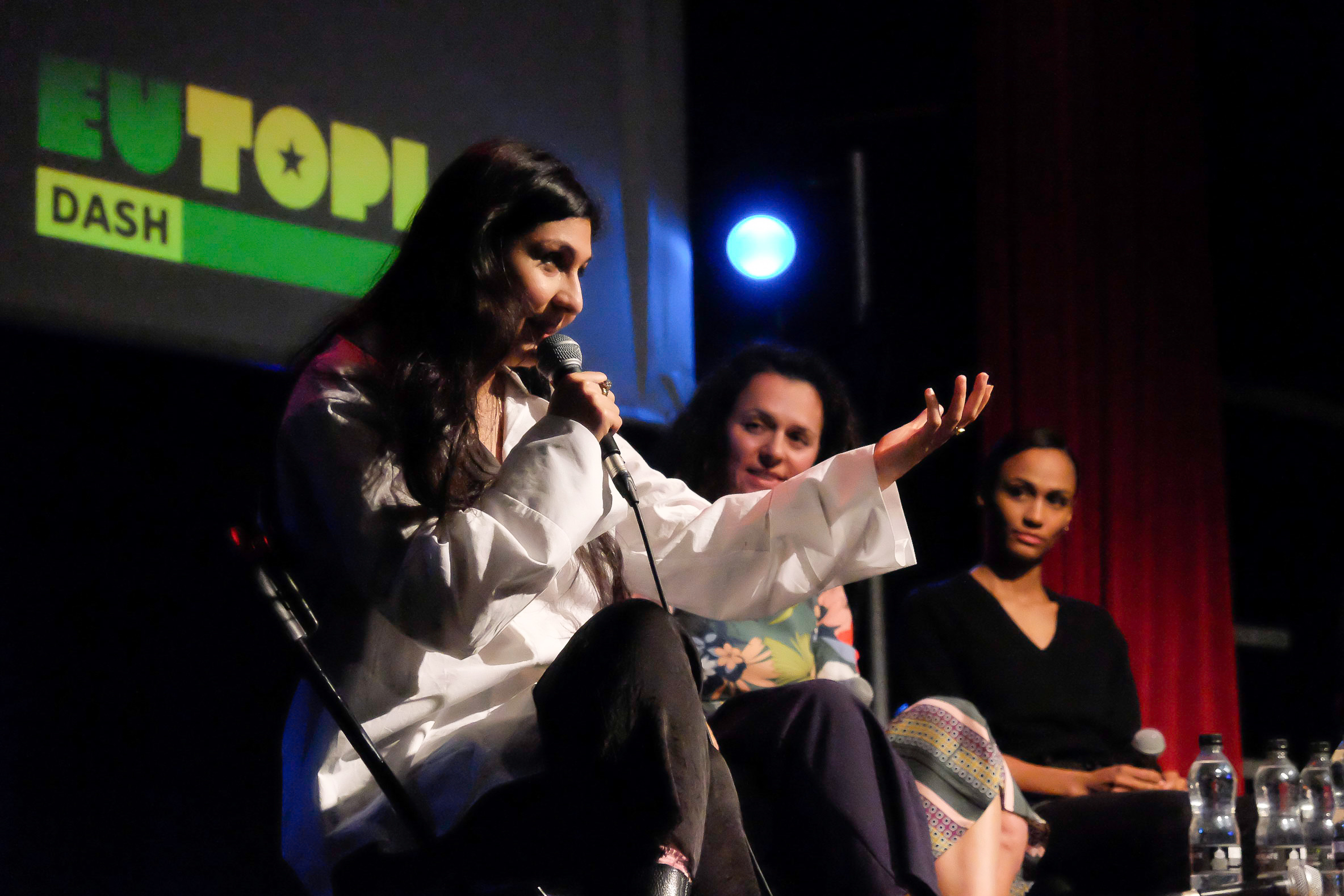 RM: Did you set out to be an Artistic Director?
JB: No! To be honest, I fell into the role gradually. I was a vocalist initially and slowly found myself making new work with other artists that over time I initiated or directed rather than performed in myself. I definitely didn't set out to run an organisation with employees, funding relationships and a board of trustees. It happened incrementally and I've largely learnt on the job. And I'm still learning now – how to continue to grow Dash, to manage people and to have the time and space to generate and create new artistic work.
It's been an amazing ride. I don't think that I'd have changed anything.
RM: What's a driving force behind Dash Arts? What motivates you each day?
JB: The driving force behind all my work is to better understand the world and the way we live in it. Dash Arts seeks to fuse local and global perspectives, cut through stereotype and generalisation, remove international barriers, access hidden communities and increase our audience's understanding of the many possibilities of performance.
Nationalism, hostility to migrants, cultural separatism, and reaction against international cooperation are enjoying a time of ever growing strength. At Dash we believe that these sentiments are anathema to artistic and cultural expression and evolution. Our work has never felt more relevant and necessary.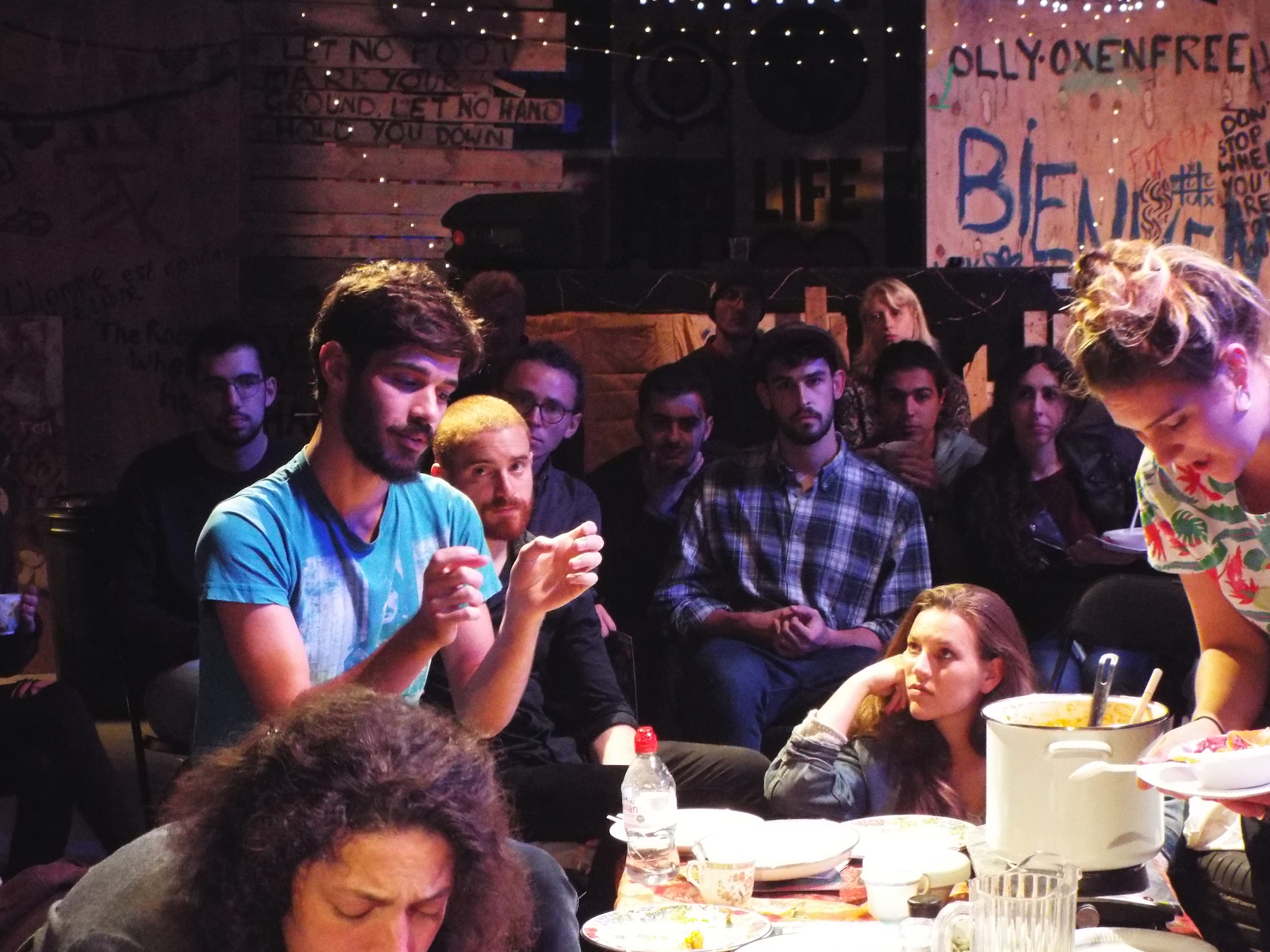 RM: How do you stay inspired? Are there any artists or contemporaries whose vision has inspired you?
JB: The artists that we work with at Dash Arts are phenomenally inspiring. They're rarely well-known stars – they're largely extraordinary performers or creators, often with amazing stories, from across the world whom I encounter on my research. I'm currently working with Marouf Majidi, who played at our Dash Café at Rich Mix in January. Marouf is a Kurdish tambur player, originally from Iran, now in Finland.
When I was in Helsinki a few years ago at a theatre festival, I sought some advice from some music friends on their top tips for the Helsinki music scene. Amongst others, they suggested I call Marouf whom I met for coffee en route to the airport on my way home. We chatted about his experiences of settling in Finland. Where he told me that for years he'd felt an acute sense of being out of tune with local musicians. Marouf explained to me "For years, I was always the soloist, never part of the ensemble. I couldn't find my groove with the group." Eventually he found his voice, but now experiences this same sense of discordance when he travels back to Iran or Turkey. I found this brief conversation totally inspiring. It opened a whole new area of research – prompting me to wonder whether there was a different sound in Finland– a sound that Marouf had to find and then an original sound of home which he had to lose in order to find his voice in Europe."
In a continent struggling to find a voice, might the newer arrivals' search for safe sanctuary in Europe's 'sound' help us to find it? The meeting has inspired a new piece of music theatre, Out of Tune, that I'm currently developing with Marouf as its composer.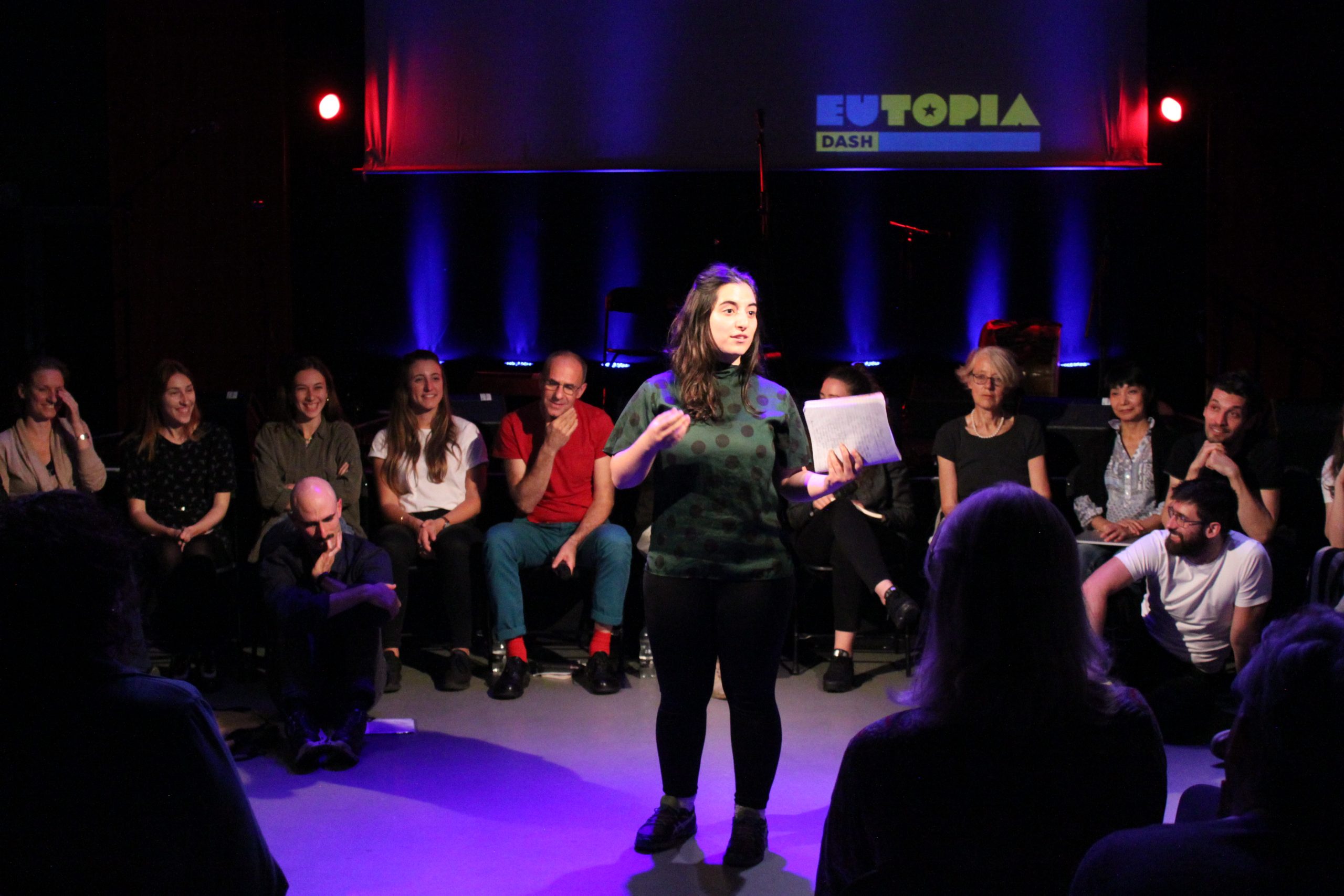 RM: Can you tell us about your favourite hidden gem in east London?
JB: Other than Rich Mix, of course, the Nomadic Community Gardens, tucked behind Brick Lane where we created our theatre piece inspired by Oliver Twist, Twistov, with Teatro Vivo and members of the community in 2017, the lovely people at falafel stand on Petticoat Lane food market, a late night gig at Café Oto in Dalston, a wander in Tower Hamlets Cemetery Park and the art deco glamour of the Troxy on Commercial Road. It's too difficult to choose one.
RM: We're celebrating our regulars and repeaters this season. What's your favourite memory of a Dash Arts event here?
JB: I love Rich Mix's versatility, working across art-forms, communities and audiences…  it's a natural fit with Dash Arts. We've created 100 Dash Cafés here, run workshops, developed new theatre, presented sell-out gigs, mass cook-ins, together hosted a recording of BBC's Kitchen Cabinet and opened art exhibitions.
One of many highlights was the first time (of three) that we opened up our Russian country house, or Dacha, for the summer at Rich Mix. Over a long weekend in 2015, we took over the main space and set up our home – complete with wicker furniture, a boiling samovar, pictures and icons across the walls and a draped ceiling. We transported the venue to a home somewhere outside Moscow that time travelled across the 20th century and took over 1000 people with us across the weekend. We brought plays to life, cooked together, sung the Internationale, knocked back shots of vodka and danced late into the night. Some of our audience came on Friday evening and spent the whole weekend with us – even voluntarily popping out to the shops to prepare more brown bread with pickles when supplies ran low on Sunday afternoon. It was a joyous and particularly crazy weekend.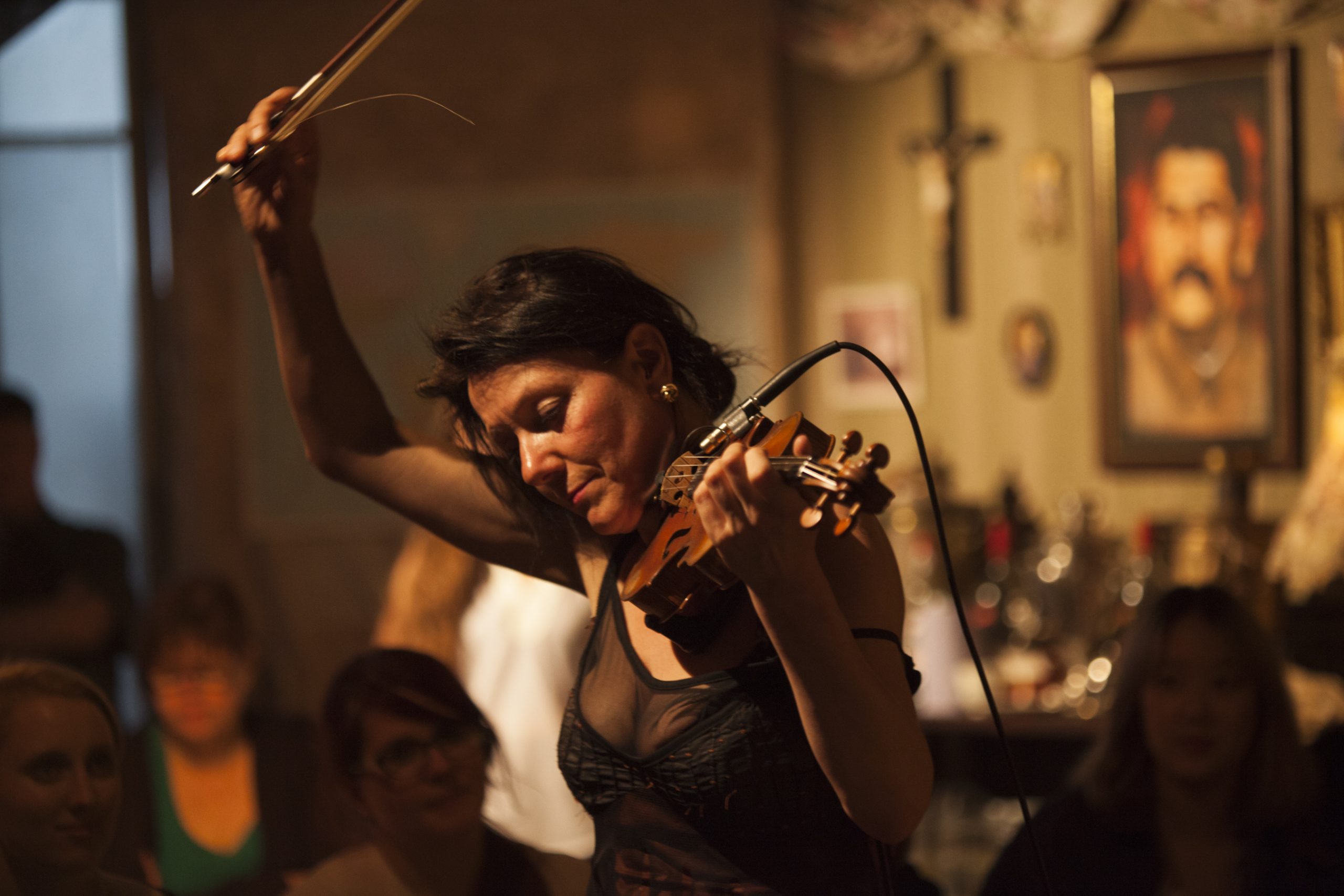 RM: The EUTOPIA season began in January 2018. Now, two years later, what's something that's struck you about working with such a timely theme?
JB: Great question! On the night of voting day for the Referendum Result in 2016, Dash co-presented the wonderful Ukrainian band Dakhabrakha to a completely sold out crowd in Rich Mix's main space. The gig was euphoric – we danced and danced. And as the band took their final bow, I thanked them from the stage and wished for us all that we'd wake up in a world that wanted to welcome the world. It was a shock to wake up in a world that next morning that appeared not to be welcoming at all. EUTOPIA emerged from that experience – certainly a desire to understand why Brexit was happening, but even more widely what was the European identity that the UK was rejecting.
So, we launched a forensic artistic investigation – what does it mean to be European and what do we mean by Europe: its borders, nations and non-nations, cities, languages, Europeans who became European after the collapse of the Soviet Union and Eastern Bloc, migrants who became or tried to become Europeans, peoples and its cultures. We're exploring it through music, plays, poetry, film, food, dance, play and lots of amazing conversation. I'm not looking for an easy answer. Our Seasons are like Aladdin's Cave – once opened, there's so much to explore and learn.
And most importantly, it became clear that we needed to ask these questions across the European continent and beyond and we need time to digest the answers. EUTOPIA cannot be bound by the Brexit Day / Trade Deal deadlines set by the UK government. Unlike the UK Prime Minister, I am proud to say that we'll be discussing Europe this time next year.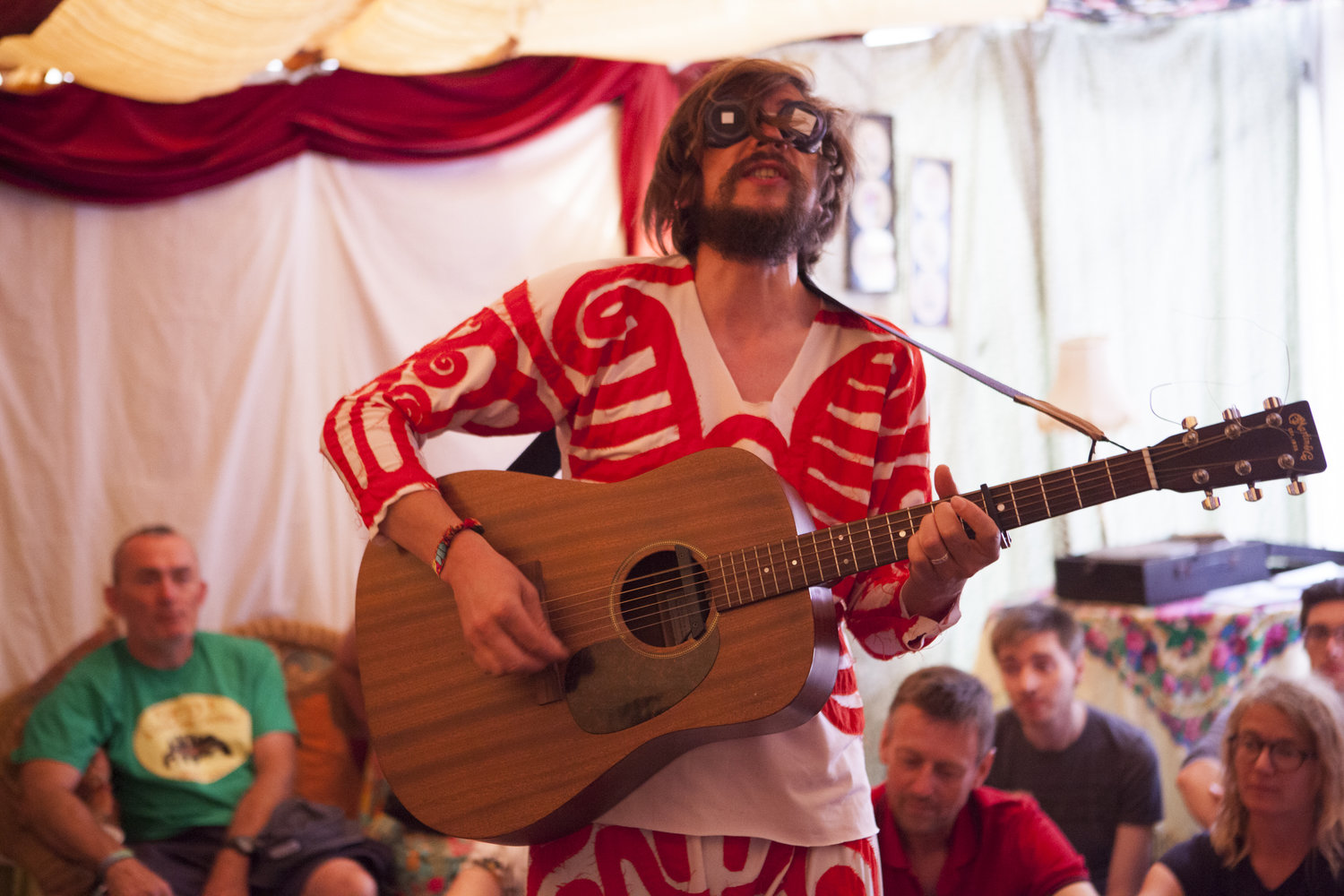 RM: What's been a highlight for you from Dash's work since 2005?
JB : I have way too many to list only one! Can I mention a few briefly? Babel, part of our Arabic Series, winning an Olivier-Award for best dance production at Sadler's Wells in 2010; premiering at the British Library in 2017 the first journey of Renegade Orchestra, an ensemble of classically trained musicians now working across the musical worlds whom I had very slowly brought together from encounters and workshops across the Former Soviet Union, Dakhabrakha closing our Revolution17 gig at Oval Space to a sold out audience of over 1000; over 60 young people from across faith schools in London showing their photographic work Faith to Faith at an exhibition at City Hall after 18 months of work together in 2017; Our Indian Midsummer Night's Dream bringing down the house at the Roundhouse; a Dash Café in March 2018 at Rich Mix sharing the stories of the Prague Spring with an audience full of people who'd been there in 1968, cooking a mass meal with our audiences as part of family Dash Café at Gulbenkian in Kent and workshops, a hip hop workhop in a basement in Hamra, Beirut, contemporary classical music in the mountains of Kazbegi, Georgia, One Thousand and One Nights workshops in Alexandria, Egypt, King Lear at Warwick Arts Centre, with migrant musicians with Journeys Festival, Portsmouth and only last week exploring rhetoric and speech-making from across Europe with students at UEA in Norwich….. To be honest it's all been a highlight!
RM: What brilliant answers – thank you so much for your time Josephine!
Switch up your week and come along to Dash Arts' next session, on Wednesday 26 February where they'll be exploring the world of German artist Günter Grass or book in for March's show on Wednesday 25 March  when the legacy of Polish theatre director Tadeusz Kantor.
And finally, look out for more interviews to come from our Raised @ Rich Mix Season.